Spain extends travel ban again

on arrivals from UK, Brazil and South Africa
According to thelocal.es, the Spanish government on Tuesday announced another travel ban extension for travellers from the UK, Brazil and South Africa until at least March 16, over the new Covid variants in those nations. Spain's cabinet agreed on Tuesday to extend entry restrictions for travellers from the three nations for another two weeks, Health Minister Carolina Darias told a news conference.
Only legal residents or nationals of Spain and the neighbouring micro-state of Andorra are currently allowed in on flights from these countries. The restriction on arrivals from Britain was imposed at the end of December while the ban on arrivals from Brazil and South Africa came into effect on February 3rd.
This is the fifth time that Spain has extended its restrictions on arrivals from Britain.
"We're looking to contain infections associated with the Covid variants as far as possible," said Spanish government spokesperson María Jesús Montero.
The previous travel ban was scheduled to end on March 2. For further details, please continue reading here on thelocal.es
Spain to add Covid-19 vaccine passport to travel corridor scheme
Although as you could read above Spain is extending the travel ban for some of the countries who have high cases of Covid-19 varians, there are also some good news coming from the country. Again, thelocal.es reported that Spain's Tourism Minister has announced that Covid vaccination certificates or passports will form part of the safe travel corridor scheme her government is preparing to allow the reopening of international tourism.
Spanish Minister of Industry, Commerce and Tourism Reyes Maroto on Monday told journalists in Castellón (Valencia) that her government plans to incorporate vaccine passports or certificates to the safe travel corridors they are planning, as "an element of safe mobility".
"We already have safety protocols in place but we want to take another step to help restart travel as soon as the coronavirus situation allows for it," Maroto said.
There is no indication Spain's Tourism Ministry intends to replace negative PCR or antigen tests with vaccine passports as a means of proving one doesn't have Covid-19 before entering Spain, but rather these will be another way of guaranteeing that there isn't infection risk. For further details, please click here and read the full statement on thelocal.es
International Air Transport Association:
Airline industry travel pass ready

…

According to the latest news from BBC: The International Air Transport Association (IATA) says it expects its digital Covid Travel Pass will be ready "within weeks".

The pass is an app that verifies a passenger has had the Covid-19 tests or vaccines required to enter a country. It also verifies they were administered by an approved authority. The industry body sees the pass as essential for reopening air travel, as many countries still have strict restrictions or quarantines in place.

"The key issue is one of confidence. Passengers need to be confident that the testing they've taken is accurate and will allow them to enter the country." said Vinoop Goel, IATA's regional director of airports and external relations. "And then governments need to have the confidence that the tests that the passengers claim to have is one which is accurate and meets their own conditions."

IATA said the Travel Pass is designed in a "modular" way, so that it can work with other digital solutions that are being trialled around the world. It will be available on iOS and Android platforms, and is expected to be free to passengers.Singapore Airlines was the first airline to start trials of the travel pass in December. For further details, please click here and continue reading the full text on BBC.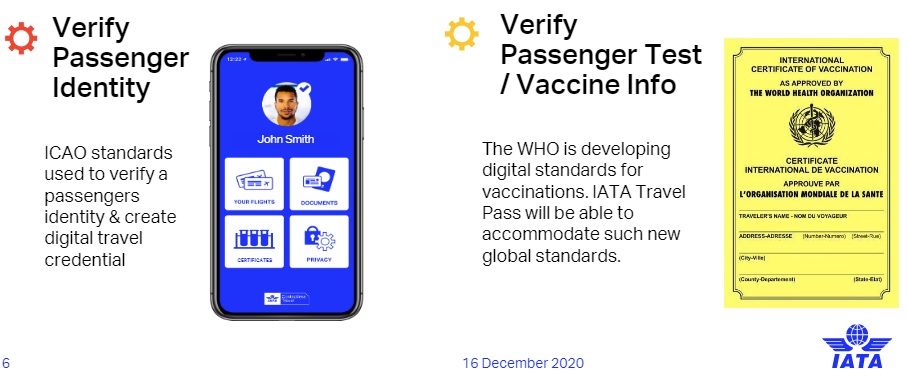 Colombia Start Ups –

Two New Airlines Planned This Year
According to Daniel Martinez Garbuno from Simple Flying, Colombia is set to have two new airlines this year. There are alsready some details available about William Shaw's Ultra Air, but now a new player has appeared. Meet Starblue Airlines, a carrier that wants to operate six domestic routes and five international.
Starblue recently asked permission from the Colombian Civil Aviation Authorities (Aerocivil) to operate six domestic flights from two Colombian cities. These are the routes:
Bucaramanga-Cali, with three weekly flights
Bucaramanga-San Andrés, with two weekly flights
Bucaramanga-Santa Marta, with two weekly flights
Cali-Cartagena, with two weekly flights
Cali-San Andrés, with two weekly flights
Cali-Santa Marta, with two weekly flights
Additionally, the airline plans to fly five international routes. Of these, four will be out of Cali and one from Bucamaranga. These are the routes:
Cali-Guayaquil (Ecuador), with two weekly flights
Cali-Lima (Peru), with one weekly flight
Bucaramanga-Panama, with two weekly flights
Cali-Quito (Ecuador), with two weekly flights
Cali-Santiago de Chile, with one weekly flight.
For further details, please click here and continue reading on Simple Flying.
EU grapples with chaotic COVID-19 border and travel curbs
According to Gabriela Baczynska, Michel Rose and Sabine Siebold from Reuters, the European Commission told six EU countries to ease travel and border restrictions on Tuesday as unilateral moves to combat the spread of new coronavirus variants had hit the flow of goods and risked shutting parts of the Franco-German border.
The EU executive said it had given Belgium, Denmark, Finland, Germany, Hungary and Sweden 10 days to justify the restrictions, which Justice Commissioner Didier Reynders said had "gone too far".
Reynders said the 27 EU countries should adopt a coordinated approach to all measures taken in relation to the free movement of people and goods.
A European Commission spokesman said the bloc risked "fragmentation and disruptions to free movement and to supply chains – something we have witnessed again the past weeks".
Berlin, having introduced checks on its frontiers with the Czech Republic and Austria, was in talks with Paris on averting similar measures in France's eastern Moselle region that borders Germany.
The French region has experienced a surge in a more easily transmissable coronavirus variant, as have Austria's Tyrol and the Czech Republic.
For further details please continue reading on Reuters by clicking here.
Holiday bookings soar as Britons hope

for travel restart
According to Sarah Young from Reuters, Britons rushed to book foreign holidays after the government laid out plans to gradually relax coronavirus restrictions, giving battered airlines and tour operators hope that a bumper summer could come to their rescue.
Bookings flooded in on Monday evening and Tuesday following the government's announcement on Monday that travel could restart from mid-May, with Spain and Greece the most popular destinations, airlines and holiday companies said.
EasyJet said that bookings on its flights from Britain for this summer had jumped by more than 300% compared to a week ago and bookings for its summer holiday packages had increased by more than 600% compared to a week earlier.
Holiday company TUI UK said that its bookings had surged 500% compared to a week ago, while holiday and airline group Jet2 said its bookings had increased by more than 600%.
The companies did not give precise numbers of bookings, and industry sources said the increases were likely to be from very low levels last week. Uncertainty over trips had stopped demand in what is usually a key winter booking period with cash flowing in. For further details, please click here and continue reading on Reuters.